LEFT
| | |
| --- | --- |
| Date: | Sat, Oct 5, 2019 |
| Time | 6:00 PM to 9:00 PM |
| Venue: | 11663 Agate Road Eagle Point Oregon 97524 |
| Contact: | Tasting Room Staff |
| Phone: | 541-826-8953 |
| Email: | info@bayerfamilyestate.com |
LEFT (Levick-Evoniuk-Frederick-Terreri-Harriss)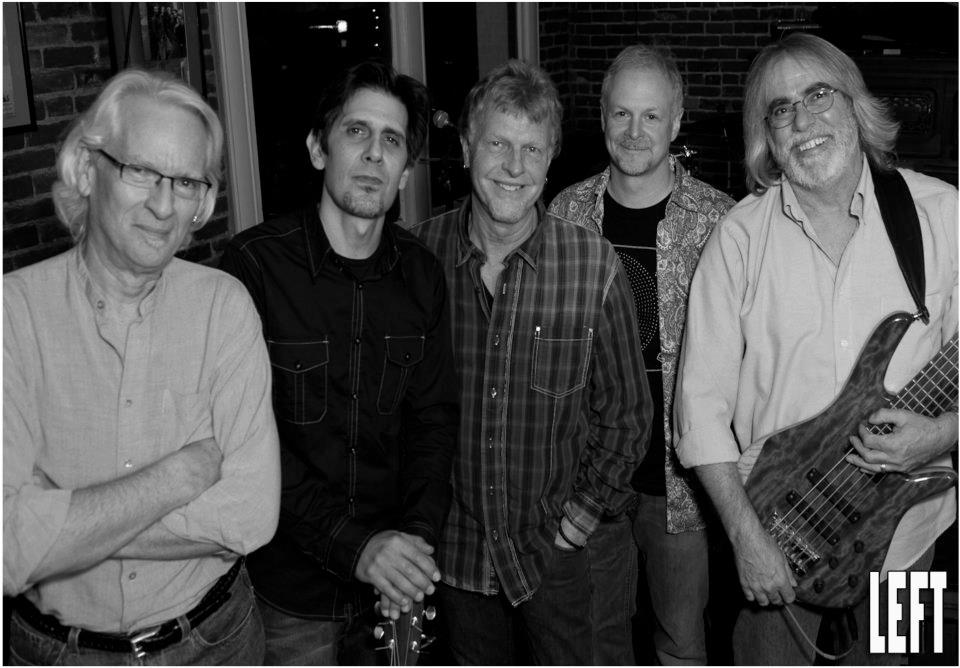 LEFT is a synergetic labor of love comprised of five of the Northwest's most talented and hard working musicians.

- Bret Levick (vocals, guitar) is an acclaimed American rocker, edgy singer songwriter and talented lyricist. His raspy & melodic voice creates songs that grasp you from the first line.
Billboard Magazine writes about Bret's songs: "There's a Bowie-esque aura to the vocals here, with enough twists and turns in direction between pace and melody to keep listeners attentive. This has a real throwback appeal, which could work its magic with modern and mainstream rock listeners who depend on the occasional dose of history with their current diet."

- Greg Frederick (bass, vocals) is best known locally for being the bassist and co-founder of the Rogue Suspects but he has also shared the stage with many rock jazz and blues legends including Miss Lavelle White, Bill Watrus, Johnny Hartsman, Eric Burdon, Bo Diddley, Buddy Miles and Vince Neal. His former band Nickel and a Nail which included Pablo Cruise Singer Bud Cockrel and B3 monster Danny Abrams were featured artists at the 1996 Monterey Blues Festival. Greg has played on numerous albums and television soundtracks. His six string bass style has been described as "solid, versatile, sometimes aggressive and just plain fun to watch".

- Bob Evoniuk (slide guitar, dobro, lap steel and vocals) Bob started on piano at 5, took up the guitar at 11, discovered the Dobro in his late twenties.
Currently, Bob's main musical expressions come in the form of singing and his work on lap steel, Dobro and guitar. He is a masterful player who not only respects his roots in bluegrass but also breaks new ground on his instruments.
Raised on '60's rock and roll in Virginia, along with many young people (at the time) gravitated towards the burgeoning interest in bluegrass and Americana music. Prior to the formation of LEFT, Bob spent 14 years with one of the northwest's favorite touring bluegrass bands, Foxfire. Along with singer/songwriter Emy Phelps he formed the Americana quartet, Borderline who were together for nearly 10 years. Currently Bob also plays with another favorite northwest bluegrass ensemble, Siskiyou Summit, and with two members of his former band in the Foxfire Trio.
Bob has done extensive recording, arranging and production work and remains very active in the northwest music scene. For the past 20 years he has been involved with producing the country's largest indoor Americana and acoustic music festivals, Wintergrass, which takes place near Seattle each February.

- Matt Terreri (drums, vocals)
Matt Terreri is a formally trained drummer and percussionist with over 40 years experience. He has performed on many commercials and albums which also include a major label deal with .
Matt grew up playing rock and metal, although African, funk and blues are some of his favorites. He has toured both coasts and now resides in Ashland Oregon.
Terreri's motto is, "I'll play anything as long as it grooves!"

- Don Harriss (keys)
This keyboardist and computer whiz has derived his unique sound from a diverse background that includes classical training,'60s Haight-Ashbury psychedelia, stints of touring and recording with rock idol Pat Travers, and jobs composing corporate film soundtracks.
CABA Empanadas will be selling plates at this show. Please, no outside food or drink!
TICKETS ARE STILL AVAILABLE AND CAN BE PURCHASED AT THE DOOR. We hope to see you there! You don't want to miss this late summer show.