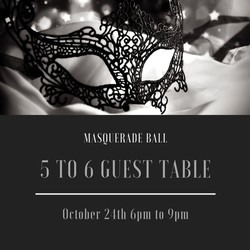 Masquerade Ball 5 to 6 Guest Table
BAYER FAMILY ESTATE PRESENTS THE ANNUAL HALLOWEEN MASQUERADE BALL
Please Join us October 24th, 2020 from 6:00pm to 9:00pm for an event that will be as spooktacular as ever! Goblins and ghouls can expect to dance the night away to Frankie Hernandez's Band and hungry monsters can fill their bellies with huntingly good food from Tap City! The night will end with amazing prizes for Best Costume, Best Group Costume, and Most Creative Mask/Face Covering/Face Shield!
For $90 this table for 5 to 6 guests includes a sectioned off area, table service and 1 bottle of wine.
*Club Member Discounts apply. Please login to your online account to receive your discounted ticket price. If it is your first time logging in to our site, please select "forgot password" under the Log In option. Your e-mail automatically defaults to the e-mail you used for your wine club membership.