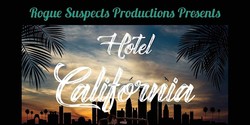 Rogue Suspects Eagles Tribute: HOTEL CALIFORNIA
SEPTEMBER 22 | 6-9pm
The ROGUE SUSPECTS' EAGLES TRIBUTE: HOTEL CALIFORNIA will debut on Saturday May 20th! 6-9pm. This show has been long awaited as the members of the band; Greg Frederick (Bass), Shae Céline (Vocals), Anthony Cusenza (Guitar), Nick Garret-Powell (Guitar), Christi Pellani (Drums), Dennis Johnson (Keys), have been working for months to perfect the sweet harmonies and howling guitar solos. After weeks of picking the best songs of the Eagles, this show is truly a masterpiece. Don't miss it! Grab your tickets today and come celebrate an era of music that is like no other.
Ticket Prices:
$15 Club Members
$20 General Admission
$25 General Admission at the door
All ticket purchases are non-refundable.
Food Truck TBD.
*Members, please login to your online account to purchase tickets and receive your discounted ticket price. If it is your first time logging in to our site, please select "forgot password" under the Log In option. Your e-mail automatically defaults to the e-mail you used for your wine club membership. Once you are logged into your account, you will receive your discounted ticket price once you add the ticket to your cart.